Visiting Pilot & Airfield Information
The information on this page provides guidance and quick reference for pilots visiting Sherburn in Elmet airfield and as such, it is not intended to replace official publications.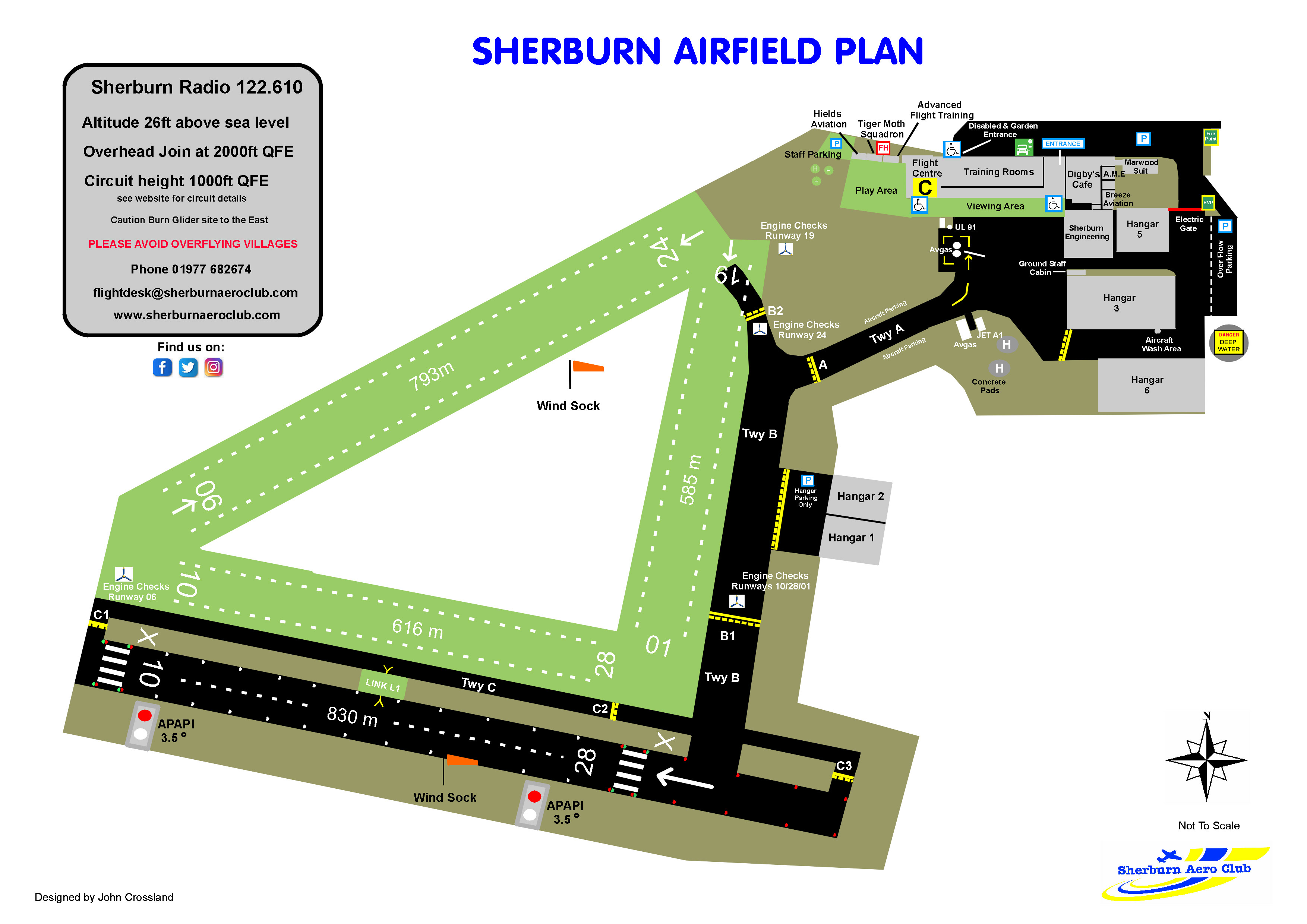 ---
Airfield Information
Sherburn-in-Elmet Airfield is located 1.5 nautical miles (2.8 km; 1.7 mi) east of Sherburn-in-Elmet village and 5.5 NM (10.2 km; 6.3 mi) west of Selby, North Yorkshire, England.
ICAO Code: EGCJ
Address: The Aerodrome, New Lennerton Lane, Sherburn in Elmet, LS25 6JE
Telephone: 01977 682 674
---
RNP Instrument Approach Procedures
The Sherburn IAP is available to IR or IR (R) qualified pilots with aircraft approved for RNAV (RNP) instrument approach procedures. It is mandatory to read the pilot brief prior to requesting PPR to fly the procedure.
---
PPR
PPR is not mandatory at Sherburn Airfield, but you are welcome to use the PPR form if you prefer. You can always give the Flightdesk a call or call on frequency 122.610 for airfield information.
Inbound PPR Form Book Out Form
---
Air-Ground Radio & NDB
Sherburn Radio: 122.610 Changed 20th October 2018
NDB (SBL) on A/D: 323.0 | Range 10nm | Location N5347.37 W00112.50
---
Runways
BACKTRACKING ON ACTIVE RUNWAYS IS NOT PERMITTED
28 Tarmac - TORA 799m, LDA 616m | 10 Tarmac - TORA 616m, LDA 616m
28 Grass - TORA 616m, LDA 616m | 10 Grass - TORA 616m, LDA 616m
24 Grass - TORA 696m, LDA 703m | 06 Grass - TORA 723m, LDA 676m
19 Grass - TORA 553m, LDA 521m | 01 Grass - TORA 553m, LDA 553m
---
Arrival & Departure Information
BACKTRACKING ON ACTIVE RUNWAYS IS NOT PERMITTED
Arrivals and departures route via Selby, Ferrybridge Power Station or the A1/M1 interchange.

Standard Overhead Join at 2000 feet QFE.
Avoid flying over the local villages
All Departures via the circuit at 1000 feet QFE.

Avoid overflying BURN glider site - winch launches to 3000'
Arrival & Departure Procedures (PDF)
---
Circuit Patterns - Please follow the published circuits
The circuit in use provided on the first contact with Sherburn Radio.
28 Lefthand / 10 Righthand
24 Lefthand / 06 Righthand
19 Lefthand / 01 Righthand​
All circuits are 1000 feet QFE.
Sky Demon, Pooleys & AFE circuit diagrams may be incorrect.
---
GNSS Approach
An application to develop a GNSS approach is currently underway. More information to follow.
---
Fuel
Fuel is available during hours of aerodrome operation.
AVGAS 100LL
AVGAS UL91
AVTUR JET A1
---
Fees & Charges
Please see our airfield price list for up to date information.
---
Customs and Immigration
Available by prior arrangement only. Please contact the flightdesk.
---
Local Facilities
Please contact the flight desk should you require local information from places to visit, accommodation and local transport.
Taxi - Oz Travel - 01977 683399
Taxi - AB Cars - 0113 2872222
Selby Taxis - 07939313053
A2B Travel - 0113 2888999
Train - Sherburn in Elmet Train Station | Distance 3.0m
Accommodation - Station Farm Guest House | Distance 4.7m | 01937 557088
Accommodation - Maypole Farm Guest House | Distance 8.0m | 01757 268849
Accommodation - Hazlewood Castle and Spa - 01937 535353
Accommodation - Oddfellows Arms - 01977 6782368
Accommodation - Thorpe Park Hotel and Spa - 0113 2641000